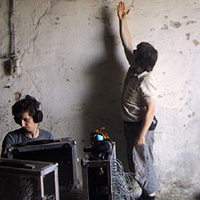 - g a r a g e f e s t i v a l -
stralsund
pics: 1 2 3 4 5 6
pics by: carsten stabenow, wulf beck
play:
Invited by the great garage festival in stralsund (germany) thilges 3 did
some spontaneous improvised concerts in public space. the recordings of this
short concerts have been reworked on a day off and performed live again in a final
show situated in an old storage hall. Part 8 in thilges 3 CD series documents a
concert in an old church in stralsund.