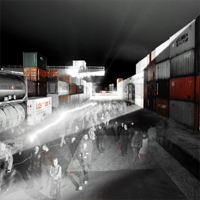 -A r s E l e c t r o n i c a-
pics: 1 2
pics by: rainer zottele
A job work for the ars elektronica 2001. Three containers are moved through the sheet metal ravines of the Linzer port area. The containers are equipped with PA systems and receivers. From a central point Thilges3 transmit sounds to the containers. The sounds are generated with analogsynth . The composition of the music is co-ordinated with the container movements. The difference to a classical 4-channel space acoustic irradiation exists in the motion of the loudspeakers.
The panning of single sounds and the moving of the loudspeakers develops abstract rhytmical patterns and sound spaces. The listeners are led by the sounds - guided through the port area.